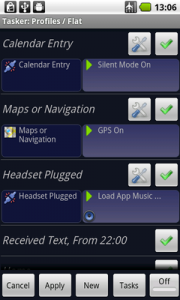 Description:
Tasker is an application for Android which performs Tasks (sets of Actions) based on Contexts (application, time, date, location, event, gesture) in user-defined Profiles, or in clickable or timer home screen widgets. This simple concept profoundly extends your control of your Android device and it's capabilities, without the need for 'root' or a special home screen. Here are only some of the things you could do with Tasker: *
passcode-lock sensitive applications (e.g. for child safety)
*
change phone settings by wake up with a random song from your music collection text-to-speech;
*
read out loud: incoming SMS/ phone number, WiFi/Bluetooth status, when it's time for an appointment, when the battery is low etc etc (Android OS 1.6\. only)
*
launch a music application when your music SD card is inserted, otherwise a file browser
*
start the day with a particular application showing
*
change all your home icons and wallpaper every day, or in particular locations
---
Angry Birds Star Wars
Angry Birds Star Wars
Rovio Mobile Ltd.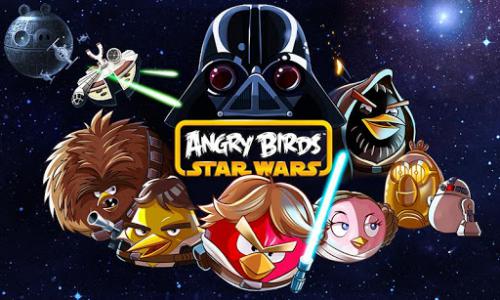 Description:
A long time ago in a galaxy far, far away… a group of desperate rebel birds faced off against a galactic menace: the Empire's evil Pigtroopers! Rebel birds, striking from a hidden base, have won their first victory against the evil Imperial Pigs. During the battle, Rebel spies managed to steal secret plans to the Empire's ultimate weapon, the PIG STAR, and are racing to deliver the plans to the Rebel Birds. Now they need your help! Join an epic adventure with the Angry Birds in the legendary Star Wars™ universe! Use the Force, wield your lightsaber, and blast away Pigtroopers on an intergalactic journey from the deserts of Tatooine to the depths of the Pig Star — where you'll face off against the terrifying Darth Vader, Dark Lord of the Pigs! Can you become a Jedi Master and restore freedom to the galaxy? Time to grab your lightsaber and join the adventure! May the birds be with you!
Contacts Notification
Contacts Notification
dapaua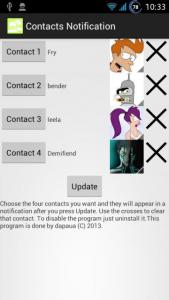 Description:
Contacts Notification allows you to choose up to eight contacts, which will be shown in a notification or a configurable sidebar. Tapping the contacts will allow you to call, message, whatsapp, email or many other things. This allows a faster workflow when you need to call someone when you are doing other things. Just install the apk, open the Contacts Notification app, choose your contacts and press update. The notification will automatically appear after a reboot, so you only need to do this once or to change your favorite contacts.